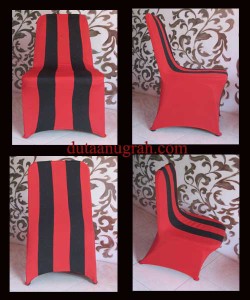 Sarungkursi dengan desain kostum klub sepak bola Persipura, yang identik dengan kombinasi warna merah dan hitam merupakan kostum kebesaran Persipura. Penutup kursi ini sangat anggun dan mewah menggunakan bahan kaos atau lotto dengan model ketat dan bisa diaplikasikan ke kursi futura, chitose maupun kursi plastik napolly.
Desain Chair covers atau model pembungkus kursi tergantung pada kursi yang dipergunakan, bisa menggunakan model sarung kursi ketat atau rampel. Kami menawarkan dan Jual sarung kursi yang sesuai untuk pernikahan, perjamuan, pesta, pertemuan, upacara atau acara lainnya.  Segala macam ukuran, harga dan warna berbagai jenis penutup kursi tersedia.
Custom chair covers. Ideal for conferences and sporting events, they're sure to remember the comfort that your brand provided.